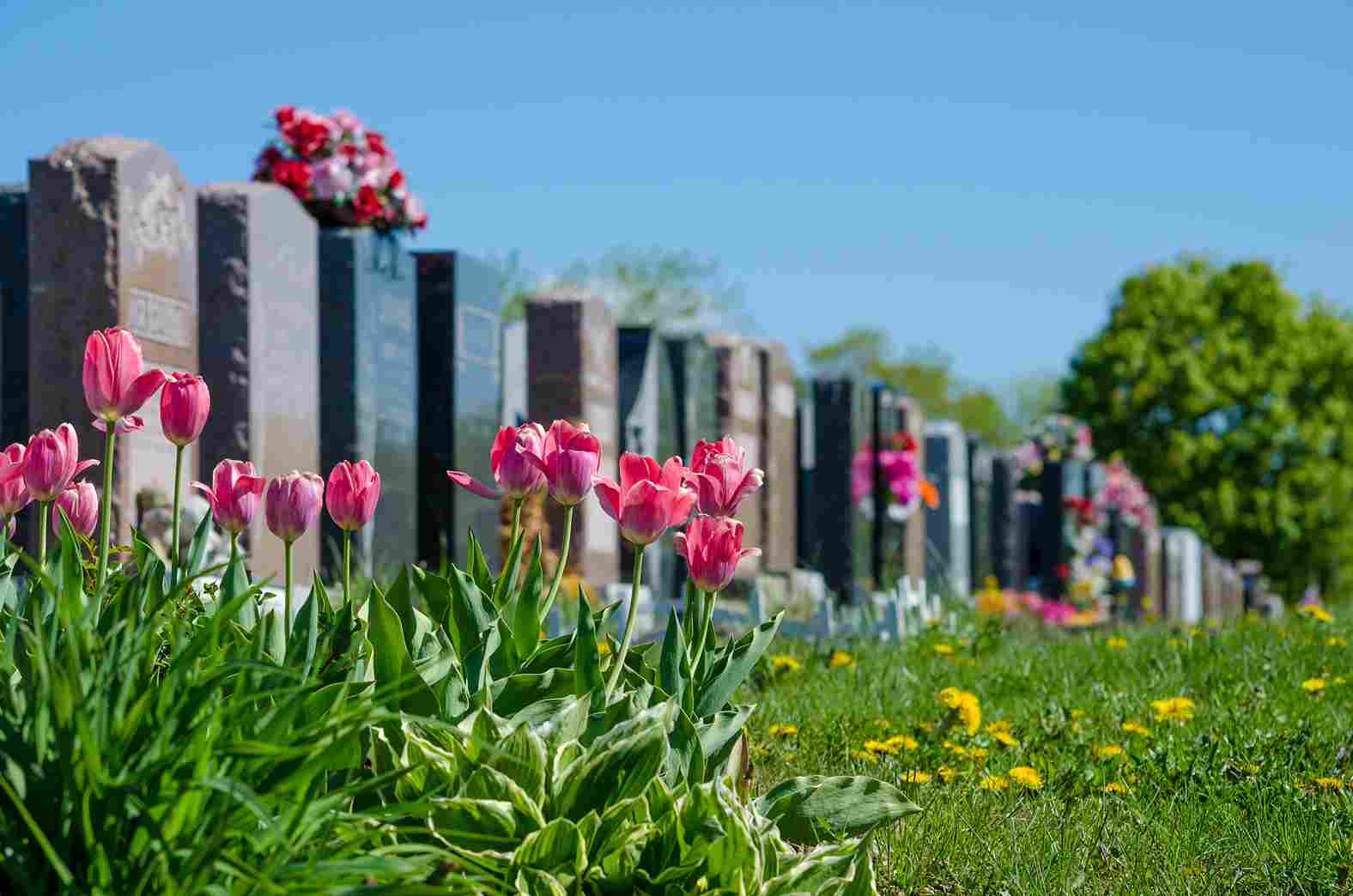 Life is a great journey, and part of that journey involves planning for our final resting place. Choosing a cemetery plot is an important step in
preparing for the future
. Knowing this important decision has been made can also bring you inner peace.
In this post, we'll walk you through the basics of buying a cemetery plot, covering everything from cost to burial options and everything in between.
How much does it cost to buy a cemetery plot?
The price of a cemetery plot can vary. However, as of 2023, the
average price for a single plot in a public cemetery is between
$200 and $2, 000
.
For a private cemetery the cost is between $2, 000 and $5, 000. There are a few factors involved, such as:
The type of cemetery plot
The location of the cemetery
The plot's placement within the cemetery
You should also factor in extra costs like
grave liners for caskets
and receptacles or urns for cremated remains in the plot's overall cost. Buying or planning a plot for loved ones along with your plot will also increase the price, so speak with them before involving them in your purchase.
Can I pre-purchase a cemetery plot?
Yes, you can pre-purchase a cemetery plot,
and it is highly recommended.
Here are three reasons why you should pre-purchase a cemetery plot:
It might save you money

, as prices will always increase due to inflation, dwindling supply, and cemetery space. Pre-purchasing your cemetery plot may help you to side-step these issues.

You have a better chance of choosing the location you want

since certain cemeteries may not accommodate your wishes (i.e., burial style). Pre-purchasing your cemetery plot gives you the flexibility to find one that can.

You can control your options and shop around

without leaving the guesswork to loved ones and family who will be dealing with the emotional circumstances of your passing.
What types of cemetery plots are there?
There are two options to consider
when choosing a cemetery plot based on how you want to be laid to rest:
an in-ground plot or an above-ground plot
.
In-ground options
An in-ground cemetery plot is a burial space where the casket or urn is placed in the earth. A headstone then marks the grave. Here is a list of in-ground options that you can choose from:
Single-depth burial spaces hold one person.
Double-depth burial spaces hold two people, such as siblings or couples. The caskets are stacked on top of each other.
Family lots are areas of land a family has bought for burial purposes.
Private estates are "cemeteries within a cemetery." A person is buried and then fenced or walled off from the other graves.
Lawn crypts are pre-installed burial containers. They protect the casket or urn against the elements.
Above-ground options
Above-ground cemetery plots are
structures that house caskets or urns, providing them with an elevated resting place.
I
ndividuals are then memorialized with a plaque
.
Here are the available options for above-ground cemetery plots:
An End-of-Life Plan is a document that outlines your final wishes once you pass away, including burial preferences.
What types of cemeteries are there?
Whether you want something more traditional, to express your religious beliefs, or to be one with nature,
there are several cemetery types to choose from in the United States:
Monumental cemeteries feature upright tombstones or monuments, occasionally with low-level or flat headstones.
Memorial park cemeteries have lawn-level memorials to make the cemetery feel and look like a park. Some memorial park cemeteries even have virtual tours that you can explore if you can't visit the grounds in-person.
Garden cemeteries combine upright tombstones and monuments with a natural or garden-like aesthetic.
Municipal cemeteries are owned by cities or municipalities. They usually prioritize burying people who live in the same city or municipality or their family members. However, the specific rules for who can be buried there can differ depending on each city or state. To find out if you are eligible, check either the cemetery or relevant government websites.
Religious cemeteries are owned and operated by specific religious groups to accommodate their worshippers.
Veteran cemeteries are owned, operated, and controlled by the Veteran Affairs Administration on a state and national level.
Graveyards are attached to a church's property. The terms "cemetery" and "graveyard" are not interchangeable, but people often treat them as such.
Natural burial or green cemeteries are newly popular eco-friendly options where the deceased is laid to rest in nature.
While death is a certainty, our land space is still limited. See if space is available at the cemetery by calling in advance. Plots that require more space (i.e., private estates or lawn crypts) may be unavailable at your chosen cemetery.
You can also see how the grounds are maintained by asking for a tour of the cemetery and exploring it while searching for your plot.
How long do you have a cemetery plot for?
In most cases,
when you purchase a cemetery plot, it's yours forever.
However,
certain states,
such as Florida
, have a policy allowing the repossession of cemetery plots.
This occurs when the plot owner has not updated their address for fifty consecutive years, and the cemetery cannot reach them.
Contact your cemetery in advance to find out if the state it operates in allows cemetery plots to be repossessed.
What else do I need to know before buying a cemetery plot?
Here are a few other things to consider that could help you narrow down your options:
1. If you have to buy a headstone through the cemetery
Some cemeteries require you to purchase the headstone through them. If this option meets your needs, find out what styles and options are available.
2. If there are stipulations for markers and headstones
The cemetery might have stipulations regarding headstones or markers. Ask if there are size stipulations or if pieces of land require specific types of monuments.
3. If there any rules regarding cemetery decorations
A cemetery might have regulations regarding decorations at gravesites. For example, some may only allow fresh flowers, while others allow plastic. Ask about the rules in advance so that visitors can be better prepared.
4. Consider your relationships and close family ties
Think about your relationships and close family ties. Would you like to be buried near a loved one? Consider options like double-depth cemetery plots or family estates. If your family lives far away, plan for a burial in a different city if you still want them to visit your grave.
Where do I include information on decisions related to my cemetery plot?
The
best place to include information related to your cemetery plot is in your
End-of-Life Plan
.
It shouldn't be included in your
Last Will and Testament
since this document isn't typically read until after your burial. Whereas your End-of-Life Plan is a suitable choice because it includes information related to funeral arrangements and plans for your earthly remains.
A Last Will and Testament leaves clear instructions regarding the distribution of the assets in your estate after you pass away.
Find peace in choosing your final resting place
Feeling at peace when buying a cemetery plot means making a careful choice that guarantees a final resting place. By considering location, personal preferences and ensuring the fulfilment of one's wishes through your
estate plan
and
End-of-Life Plan
, you can find solace in knowing you've made a meaningful decision.